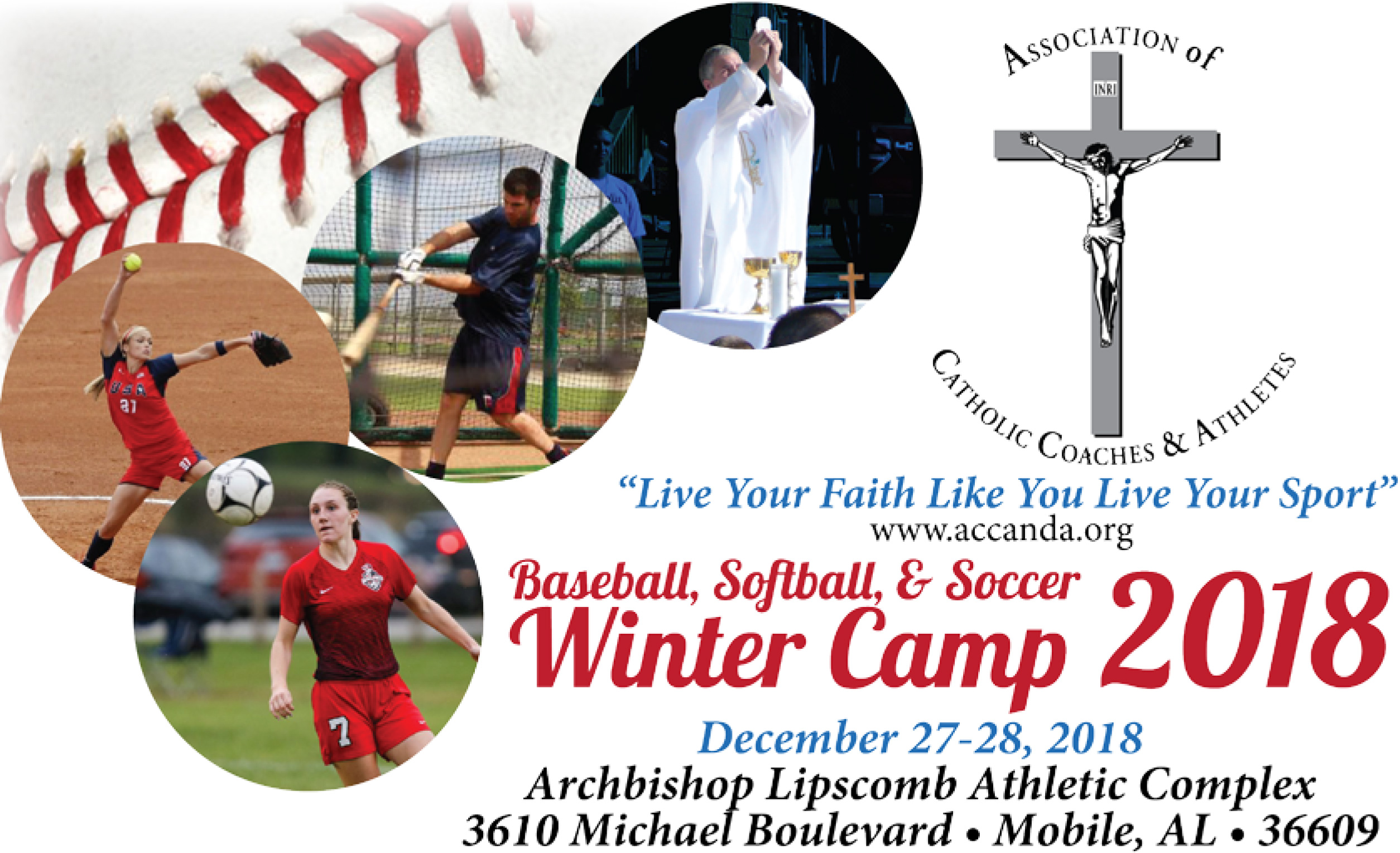 Camp Staff
Jan Weisberg
Birmingham Southern College – Head Baseball Coach
Andy McCall
Springhill College – Assistant Baseball Coach
Nate Nicholas
McGill – Toolen Catholic High School – Men's Head Soccer Coach
Chad Harrelson
St. Paul's Episcopal School – Men's Head Soccer Coach
Steve Lewis
Central Alabama Community College – Assistant Softball Coach
Fr. Chris Boutin
St. Dominic Catholic Parish – Parochial Vicar
Other high school & college players will round out the staff
Daily Camp Itinerary:
8:15 – 8:45 a.m.: Daily drop off (first day 7:45 – 8:45 a.m.)
8:50 – 9:00 a.m.: Roll Call & Prayer
9:00 – 11:00 a.m.: On-Field Instruction.Players grouped according to age & sport.
11:10 – 11:30 a.m.: Group Daily Gospel Reading and Reflection Session (Coaches and Players sit in a small groups and read the daily gospel and discuss it.
Parents, especially dads, are invited to attend this and sit in on your son or daughter's group).
11:35 a.m.: Mass, Lunch afterwards, and Catholic Faith Testimonial.
1:15 – 3:30 p.m.: Instruction and Game.
3:40 – 4:00 p.m.: Music, Prayer and Closing.
Our Mission
Form the Youth Leagues to the Professional Leagues, our Mission is to "Educate, Honor, Inspire, & Evangelize" Catholic Coaches & Athletes of any sport in the United States and around the World. This will in turn allow them to better serve the athletes with whom they coach and teammates with whom they play in a Christian manner. We are a Catholic Organization which professes the Catholic Faith as taught by the Catechism of the Catholic Church (1997, 2nd Edition).
Camp Details:
When:
December 27 – 28, 2018
Camp goes from 9:00 a.m. – 4:00 p.m. each day.
December 27 pre-reg check-in/on-site registration goes from 7:45 – 8:45 a.m. at the football stadium concession stand nearest the parking lot.
Where:
Archbishop Lipscomb Athletic Complex
3610 Michael Boulevard
Mobile, AL 36609
Who May Attend:
3rd – 6th Grade Boys and Girls
Baseball, Softball & Soccer Players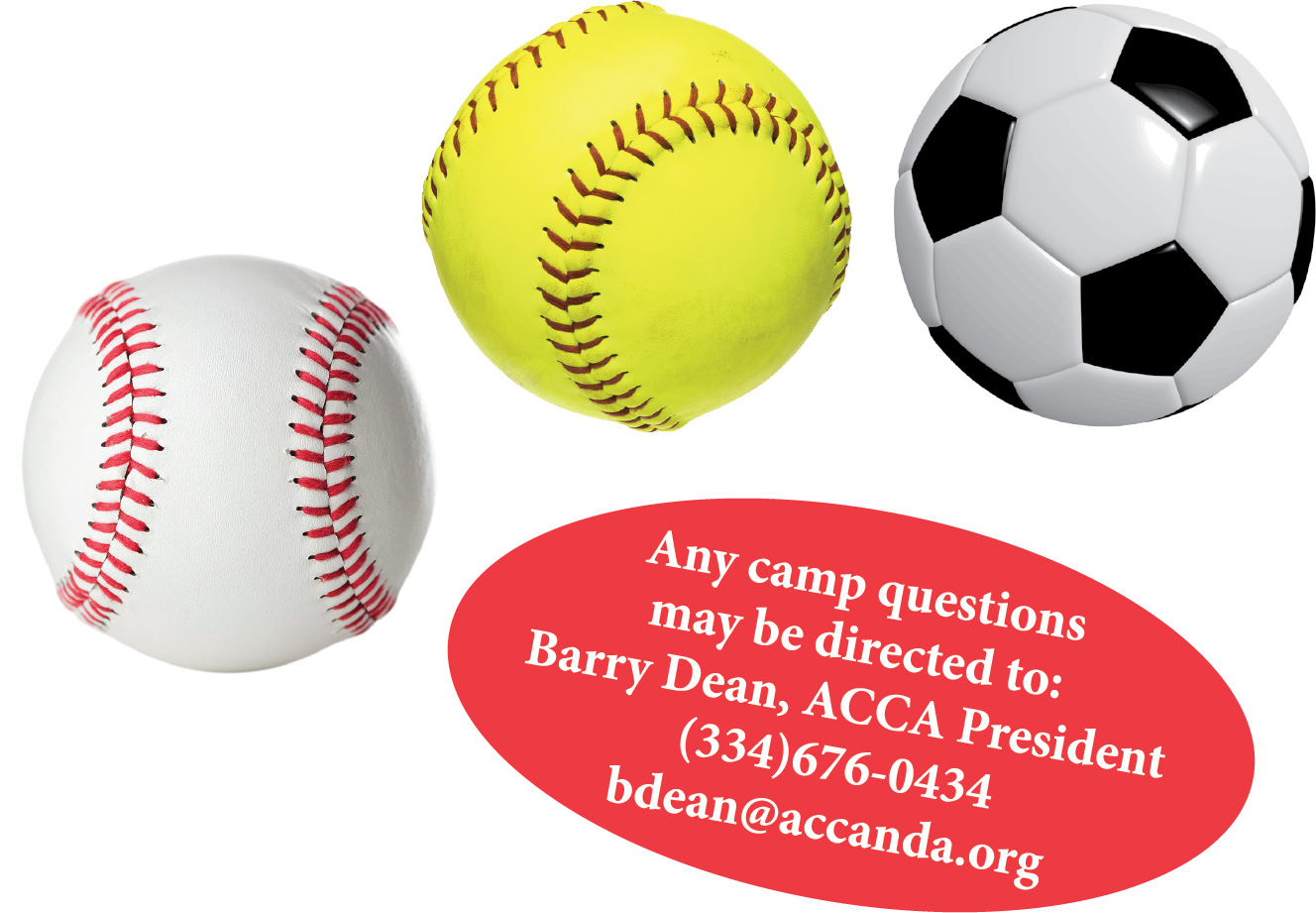 Cost & How to Register:
$50 per player if done online by Friday December 21, 11:59 p.m.
$60 after December 21 and must be done on site with cash or credit card.
To pre-register go to accanda.org, find the December 27 – 28 Camp link in the Upcoming Events Section on the Home Page.
If paying by cashiers check or money order, make it out to ACCA and send it to:
ACCA – P.O. Box 3882 – Montgomery, Alabama 36109.
Must be postmarked by December 18 to get the pre-registered rate.
No personal checks please.
What to bring to camp each day:
Dress in baseball/softball/soccer practice gear, bring personal practice gear – glove, bat, cleats/turfs and/or tennis shoes. Baseball and Softball players: Make sure you bring turfs, tennis shoes or rubber bottom cleats in case you practice on the football stadium turf.(Please mark each item with a sharpie marker), bring a sack lunch and drink for lunch, and a mid-morning snack for our 10:00 – 10:15 a.m. break each day.
In case of forecasted Inclement weather the night before the camp, please check the Upcoming Events Section at accanda.org, for any change in the camp schedule. Thank You.