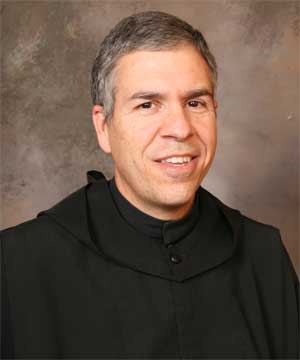 Fr. James Dean – Vice-President
* Attended St. Bede Catholic Elementary School, Goodwyn Junior High and Montgomery Catholic High School (graduated in 1979).
* Attended Auburn University at Montgomery (1979-82) and Auburn University (1982-84).
* Entered St. Joseph Seminary College in 1984 and graduated in December of 1986 (BA in Philosophy).
* Attended St. Charles Borromeo Seminary from 1987-91 (M. Div. in Theology).
* Ordained a priest for the Archdiocese of Mobile, AL on June 1, 1991.
* Served in various ministries in the Archdiocese of Mobile from 1991-2009 (high school teacher, parochial vicar, campus minister, pastor, prison ministry).
* As the Campus Minster at Troy State University, I requested and then welcomed the Fellowship Of Catholic University Students (FOCUS) to our campus ministry program.
* Spoke at numerous FOCUS conferences and have also assisted with the formation of the FOCUS missionaries (during their Summer Training) many times.
* Entered St. Benedict's Abbey on August 14, 2009 as a Postulant.
* Received the Benedictine habit and the religious name, "Justin Damien," upon entering the Novitiate on December 7, 2009.
* Professed first vows and became a Benedictine monk on December 8, 2010.
* Left St. Benedict's Abbey in June 2014 to return to the Mobile, AL. Archdiocese as a parish Priest.  Assisgned as Pastor of
St. Bartholomew Catholic Church in Elberta, Alabama, July 2014.
* Assigned to be University of South Alabama Campus Minister June 2016 – June 2018.
* Currently assigned to be Pastor of St. Joseph's Catholic Church in Prattville, Alabama, June 30, 2018.
* Host of EWTN's "Marriage Works in Christ," "Marriage Works in Christ: Broken & Blessed" and "Marriage Works in Christ: Marriage Enrichment".