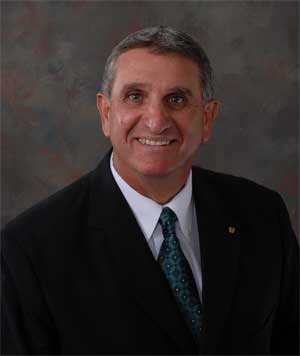 Larry Giangrosso – Secretary
* Larry is currently serving as an Assistant Principal at Pelham High School where he has been for the past six years after retiring from thirty-one years of coaching.
* He graduated from the University of Alabama at Birmingham with a B.S. in Education in 1975, and his M.A. in Education in 1977.
* He began his coaching career in 1975 at W.A. Berry High School where he was an English Teacher, and coached Football, Basketball, and Baseball.
* He served as the Defensive Coordinator in football and Head Baseball Coach from 1979-1990.
* During that time, he was a part of a Football State Championship (1982), a Baseball State Championship (1981), and four Jefferson County Baseball Championships. His 1981-82 Freshman Basketball team was state runner-up.
* He served as the President of the Jefferson County Coaches Association (1984-1990).
* In 1990, Larry started the baseball program at Central Alabama Community College in Alexander City, Alabama.
* From 1993-1999 he served as the Director of Athletics for the college.
* CACC won three Division Titles (1992-1994), and one Conference Championship (1998).
* He served as chairman of the Alabama Junior & Community College Conference from 1992-1999.
* In 1998 he was selected to coach the NJCAA National Team that defeated Japan.
* In 1999 he served as President of the National Junior College Baseball Association.
* He spoke at the National Baseball Coaches Association Clinic in 1999 and 2006.
* He spoke at the Alabama Baseball Coaches Association Clinic in 1997, 2000, and 2006.
* Larry was named as the Head Baseball Coach for the UAB Blazers in 1999 and served there until he retired in 2006.
* Larry was inducted into the Alabama Baseball Coaches Association Hall of Fame in 2001.
* He received his Honorable Discharge from the United States Air Force reserves in 1977 and from the Alabama Army National Guard in 1988.
* He was a graduate of Leadership Tallapoosa County in 1996.
* He currently serves on the Her Choice Birmingham Women's Center Board of Directors.
* He is a member of Prince of Peace Catholic Church.
* He is married to the former Karen Wathen (34 years) and they have two children, Pete and Meredith. They have two grandchildren, Emily and Tripp.
* The Giangrosso Family resides in Birmingham, Alabama.